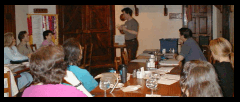 Our weekly meetings have three sections:
Prepared speeches, where selected members give speeches that they have written and practiced ahead of time,
Table topics, where members without other meeting duties are called upon to give a short impromptu speech on a question or topic, and
Evaluation, where evaluators constructively and positively review the speech of the prepared speakers and a general meeting evaluator reviews the success of that night's meeting.


At Addison Singles Toastmasters, we have theme meetings each week. Some of the themes in the past have been Halloween, Jimmy Buffet, Cool Web Sites, Fossils, Puzzles, the Circus, and many more. On rare occasions, there are chances to dress in costumes, which is always optional.

To find out more detail about how a typical meeting goes and more specific descriptions of the duty holders, check out our Typical Meeting with Description of Duties page.
Here are a couple of sample meeting agenda shells in Word 2000 format (1, 2, or 3) or PDF (1 or 2) to get you jump-started.
There's also a script available (courtesy Pam Parsons, CTM, CL) about being the Toastmaster that tells you what to say when. Word 2000 format or PDF
Here is a meeting worksheet (courtesy Steve Hollingsworth, ATM-B) in Word 2000 format or PDF to get you jump-started.
To sign up for a duty, contact VP of Education - Susan Roberts. Duty assignments for the next few weeks are sent to members via email.