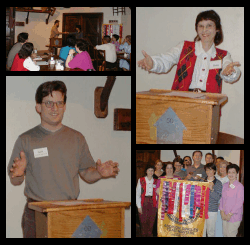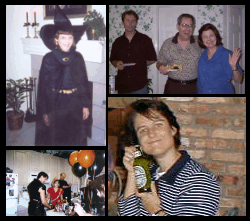 "Proudly Promoting Better Public Speaking for the Dallas Metroplex since 1994"
See you soon!

Meeting Day and Time: Every Wednesday, 7:00 P.M. to 8:30 P.M.
Meeting Place: La Madeleine Restaurant, 5290 Beltline Rd. at Montfort, Addison, TX 75240 (directions)
Hotline: 972-390-0693
Email: addison-toastmasters@mailcity.com

Visitors are always welcome! In case you want something to eat while visiting our meeting please plan to arrive 15-20 min prior to the meeting.

Addison Singles Club is in the news!
| | |
| --- | --- |
| | Are you new to our club? You're welcome to attend our Wednesday meeting free of charge. Our list of Frequently Asked Questions for visitors will help you find out more about what the evening will be like. Read more... |
| | Need to know who's doing what during the meeting? Find out more about our meetings and check out the latest duty roster. Read more... |
| | Are you thinking about joining Toastmasters but want to know more? Find out why this is a FUN, SAFE place to practice your speaking, communication, and leadership skills. Read more... |
| | We're a fun-loving group of singles! Each week after the meeting, we socialize during Post-Toasties where we chat, eat, and drink at a nearby restaurant. We have numerous SINGLES EVENTS, such as parties, dinners, and more, throughout the year. Read more... |
| | Need to know who our current officers are? Details about the next contest? What about district information and announcements? It's all here. Read more... |
| | Looking for speaking-related links? Articles about speaking? Running out of topics to speak on? Check out our Resources page. Read more... |