The mission of the Addison Singles Toastmasters Club is to provide a mutually supportive and positive learning environment in which every member has the opportunity to develop communication and leadership skills, which in turn foster self-confidence and personal growth.
President: Rudye L. McGlothlin, CTM
Vice-President of Education: Susan Roberts
Vice-President of Membership: Marianne K. Phillips, ATM-B, CL
Vice-President of Public Relations: Steve Hollingsworth, ATM-S
Secretary/Treasurer: Crystal Yates
Sergeant-at-Arms: Tom Stephens & Jesse Terrell
Speech Contest
In January/February we will have our International Speech and Table Topics Contest. Please stay tuned for details.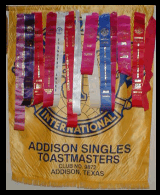 Addison Singles Toastmasters is part of District 50, Area 67, and is Club #9872. Visit our Goals page.
Addison Singles Toastmasters is part of Toastmasters International.